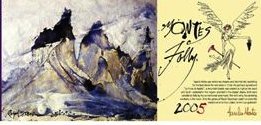 Once again I am pleased, flattered, and inspired by the fact that another famous international wine star has chosen to spend some time at VINO showing their wares during a rare Portland visit. This Wednesday, May 22nd between 5:00-7:00 we'll be welcoming the U.S. export director of Chile's renowned Viña Montes Winery, Salome Miller. The wines of Montes have been gracing the shelves of VINO since day one, and the dedication, quality, sustainable practices, and not least the awesome quality-to-price ratio maintained by winemaker Aurelio Montes should be an inspiration to all winemakers. Salome will be showing wines not only from Montes' critically acclaimed Chilean properties, but also a few selections from their sister Argentinean property Kaiken. Going from entry level up through the luxury cuvées, this is as good as it gets in South American wine and you absolutely won't want to miss this chance to taste some awesome world class wine. This is going to be a fabulous evening and a chance to taste some of the finest South American reds in our market with the woman who makes sure they get here. I hope you're as excited as I am for this event because this is going to be amazing! The tasting is free, and you can drop in anytime between 5 and 7. No reservations required, just a palate open to new and delicious experiences! Here's the goods….
- 2011 MONTES "Cherub" Syrah Rosé $11.95
- 2011 MONTES "Limited Select" Cab/Malbec  $13.95
- 2010 KAIKEN "Corte Reserve" Malbec-Bonarda-Petit Verdot  $13.95
- 2007 KAIKEN Ultra Malbec $20.95…89 points in both Wine Spectator and Wine Advocate
- 2007 MONTES Alpha Syrah  $21.95…90 points in both Wine Spectator and Wine Advocate
- 2007 KAIKEN "Mai" Malbec $75.00….92 points Wine Advocate; 91 points Wine Spectator
- 2005 MONTES "Folly" Syrah $80.00…94 points in both Wine Spectator and Wine Advocate
As I said, an incredible evening awaits!! Those who've attended our in store events before know that the people we have in always put on a good show. Your reputation precedes you, and distributors have been hounding VINO to do events here with visiting winemakers. I've found myself having to turn down tastings that aren't quite up to standards, so for that I have to thank all of you!