2012 OWEN ROE Abbot's Table
$23.95 bottle/ $232.00 case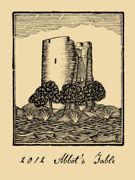 It is always interesting to watch the maturation process winemakers go through. Early on in his career at Sineann and Owen Roe David O'Reilly's wines were all about power, high alcohol, and ripeness. They were without question delicious, but sometimes lacking nuance, a bit one dimensional in their search for big flavors. That's why it's nice to see that in the last few years winemaker David O'Reilly has gotten away from the blockbuster style of winemaking, reaching for more balance and finesse in his wines, which I can only applaud. Suffice to say with this glorious 2012 version of Owen Roe's iconic Abbot's Table bottling, David has achieved exactly what he's been striving for. Sure, this is still the full-bodied, jam packed, layered wine it always has been. But with this latest, and dare I say among the greatest, version there is wonderfully integrated tannic structure and a vibrant backbone of acidity, the keys to ageability in wine. Predominantly Sangiovese, Zinfandel, Malbec, Lemberger and Merlot with a smattering of this and a smidge of that, this is an extremely satisfying red wine. Cascading with blackberry jam, bing cherry, white pepper, bramble, and lightly herbaceous aromas and flavors, this is easily the most balanced AT I've ever had. The lingering and richly textured finish speak to the quality here. Very young right now (it was only bottled early last week), this is only going to improve over the next 5+ years. In 2012 the Abbot's Table is truly something special, and it speaks directly to David's growth, maturation, and skill as a winemaker. When I tasted this 2012 I felt the same sense of excitement I had the very first time I tasted the Abbot's back in the '99 vintage, that sense of knowing that this is a guy is doing something new, something we need to pay attention to. Very, very highly recommended!