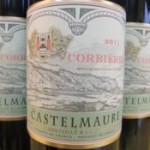 Speaking of travel, assuming one has already taken the TGV from Paris to Avignon and procured a rental car, here's how you would make your way to the place from whence this absolutely lovely bottle of southern French red comes:
Take the N580 west out of Avignon. Cross the Bouch-du-Rhone river, then head southwest on the D6100. About 4 exits down the road merge onto the A9, passing by Nimes and into the glorious southwestern French countryside, waving at the town of Montpellier as you motor by. Continue down the autoroute, skirting the Mediterranean glimmering to your left. Just past Narbonne turn inland at the exit to A61/E80 toward lézignan- Corbieres/Carcassonne/Toulouse. Just past Carcassonne turn left onto D104…D343…D110…then the D56 to Aude. Et voila, you're in heaven!
After that drive you'll surely be need refreshment, and this ripe, earthy, wonderfully complex blend of grenache, carignan, and syrah is just the thing to quench that thirst and wash away the road dust. Redolent of late summer blackberries, freshly ground black pepper, and the garrigue surrounding the hillside vineyards, it reminds me again of why the south of France is so compelling to me. I personally love this wine. It has everything I want in an everyday red, is food friendly to a fault, and is a superb value to boot!
ps- Truth be told, when I first saw this wine I really wanted it to be good because I LOVE the label, too! Trés Francais, n'est pas?