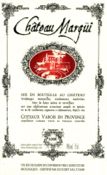 Apparently I set myself an impossible task. Culling down so much southern French deliciousness into just one tasting has proven to be hopeless. Rather than give up and go home as some less creative minds might, I figured when one is presented with an overabundance of opportunity wouldn't it be selfish not to share the bounty? You already know the obvious answer, so get ready for two straight weeks of Rhone and Provence coming hard at you. This is nothing to complain about either, as you all know of my love and lust for these sensual, pleasure giving reds and the gorgeous countryside they're fortunate enough to be grown in. Looking outside today it's all too easy to be taken away by thoughts of sun-drenched vineyards and glasses of dark red wines to accompany platters of roti d'agneau. With that thought tormenting my work day I'll do what I can tomorrow to bring some of that warmth and joie de vive to SE 28th Avenue to share. The lineup tomorrow is simply fabulous, the wines we'll be pouring for the next two weeks truly are world class at all price levels, and I'm already looking forward to the post-tasting tasting I get to do after work tomorrow. The following define "good living"….
–2011 DOMAINE L'AMEILLAUD Vin de Pays de Vaucluse $8.95
–2012 MAS DE LIBIAN "Vin de Petanque" $13.95…perhaps the ultimate picnic wine?
–2010 DOMAINE DE LA GUICHARDE "Cuvée Genest" Massif d'Chaux $14.95
–2010 DOMAINE MONPERTUIS "Cuvée Counoise" Pays du Garde $18.95
–2010 DOMAINE NOTRE DAME DS PALLIERES Gignondas $19.95
And then on to ever greater loveliness….
Bonus #1-2009 CHATEAU MARGUI Coteaux Varois en Provence $23.95…this is a personal favorite of mine, and as soon as I see adequate supply, hopefully by early July, it is destined for a VINO E-Special. I love this wine!
Bonus #2-2007 DOMAINE HAUVETTE "Cornaline" Les Beau des Provence $38.95…I was truly blown away by this wine when I first tried it a month or so ago. Astonishing richness and length!
Bonus #3-2009 DOMAINE JEAN DEYDIER "Les Clefs d'Or" Chateauneuf du Pape $39.95…a great buy in classic, beautifully made Chateauneuf. This has everything you could ask for! 91 points-Wine Spectator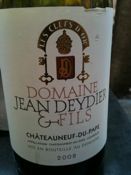 Many things to be excited about to come tomorrow (and next week), its there not? The bottles will be flowing from 4:30-8:00 tomorrow, and as hard as it is to believe looking outside right now we just may have the patio open. Fingers are crossed! In any event ten dollars will bring the first five wines to you table, and a bit more will deliver the bonus delights. Bring your friends, nibbles, and your wanderlust tomorrow!
*** SATURDAY/SUNDAY SAMPLING ***
Seems after such a fantastic Piedmontese-focused VINO E-Special that went out yesterday I just might have some showing-and-telling to do this weekend. I assume you have a few minutes to drink some free wine Saturday between 11:00-6:00 and Sunday 12:00-5:00, right? If you're on the fence, then let me provide a means to extricate yourself from that indecisive predicament and in to VINO with these must tries…..
-2006 UGO LEQUIO Barbaresco "Gallina" $25.95
-2006 UGO LEQUIO Barbera d'Alba "Gallina" $13.95
-2010 BRANCOTT CELLARS Pinot Noir ""Marlborough" $9.50…you'll be shocked at how good this New Zealand pinot is at this price!
-2011 EVOLUCIO Furmint $13.95….It's about time to fine the wines of Hungary some love, and if you've never had this white made from the Furmint grape, you need to!!
UPCOMING TASTINGS
June 14th, 2013: France Ravishing Rhone Valley Reds, part 1!
June 21st, 2013: France Ravishing Rhone Valley Reds, part 2!
June 28th, 2013: The wine of Montinore Vineyards and Bow & Arrow with the winemakers in store!!
July 5th, 2013: closed for the holiday. God bless America!!
July 12th, 2013: Tuscan Treasures, pt.2….Chianti and Brunello!!
July 19th, 2013: The wines of Owen Roe w/ Garret Plocher in store! Taste the newest releases from one of America's greatest wineries!